Masses of Moss ~ Get a FREE lawn rake when you buy a box of AfterMoss (read the article for details) 
There is always a lot of moss after the winter. When we have had a dull, damp mild winter like the one we are getting to the end of now though, there is even more moss.
That is moss in the lawn, moss on the paths and drives, moss just about every where you don't want it.
And moss is not to be confused with green algae or slime on paths, patios and decks. For that the solution is simple – water on some Hero cleaner and over the next few days you will notice the slime just disappearing and the surface coming clean and bright and most importantly less slippery! No washing, no scrubbing, no pressure washing.
So what of the moss on paths and drives, especial under trees and the on the less used areas? Treat that with Bayer Moss Killer which you can buy either as a concentrate to mix with water and apply with a sprayer or in a ready to use form. Now that our daily temperatures are rising the effect will be seen more quickly, but do not apply on a windy day or when rain is likely within 12 hours. Alternatively you can use the new Ecofective Moss Killer products available from Fresh @ Burcot Garden Centre. This new range of garden products has been tried and tested in the agricultural and horticultural trade fields for many years so they are not some fad of an idea that may or may not work, is supposed to save our planet and save you money. They really do work – the natural way to cure problems around your home and garden!
Moss in the lawn is yet another scourge of gardeners and people who simply want a nice area of green grass around their home. Treating with a product, Lawn Sand, in April is a traditional cure, and frankly still one of the best you can use. Easy to apply, quick, simple and cost effective, it will start to kill the moss in your lawn within hours of applying. The iron in the product will help nourish your grass to, encouraging it to grow more strongly and help prevent the regrowth of moss or weeds where you want lawn. You are likely to have bare unsightly patches of soil left behind once the moss has died. Over-sowing these with grass seed is a good idea as the competition from the new grass will reduce moss trying to grow back and other weeds seeking to establish themselves.
However do remember that moss in a lawn is a 'symptom' rather than a weed. Like other areas of the garden moss is in part down to damp, shade, and mild weather, but it is also more likely to grow in a lawn where there are other factors including:
weak, undernourished grass,
mowing too short in the summer,
compaction of the soil from wear and tear, often adding to poor drainage
low pH (where your soil is too acid)
Johnsons product AfterMoss is a great solution to help you over sow those bare patches. It helps raise the pH of your soil, will act as a growth stimulant to your existing grass and the seed content will soon germinate and grow, filling in the bear patches of earth after you have killed the moss off making it more difficult for moss to regrow or other unwanted weeds.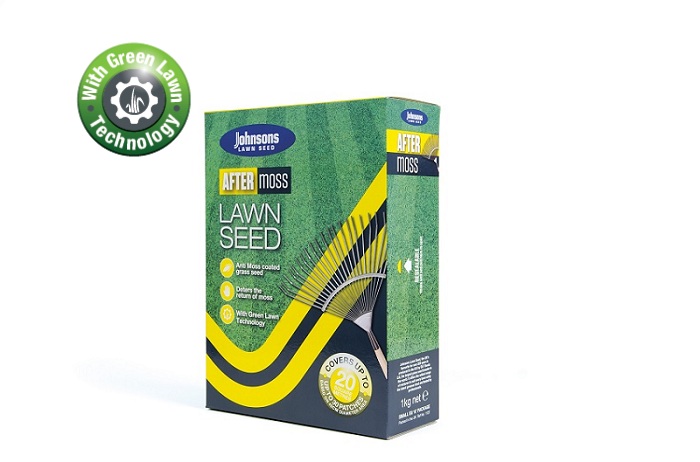 Quote this article on our website when you come into Fresh @ Burcot before the 30th of April 2017, and when you buy a 1kg box of Johnsons AfterMoss we will give you a Kent & Stowe plastic lawn rake FREE. [only available while stocks of both products last and are restricted to one lawn rake per household]
If you need some help and advice on moss in your garden and what to do about it, then pop into Fresh @ Burcot Garden Centre today and ask one of our experienced team to help you find the right solution. We are always pleased to try and help and are your Worcestershire Source of Gardening Grow How!
Always read the label on all garden chemicals before use.